Arkansas Library Telescopes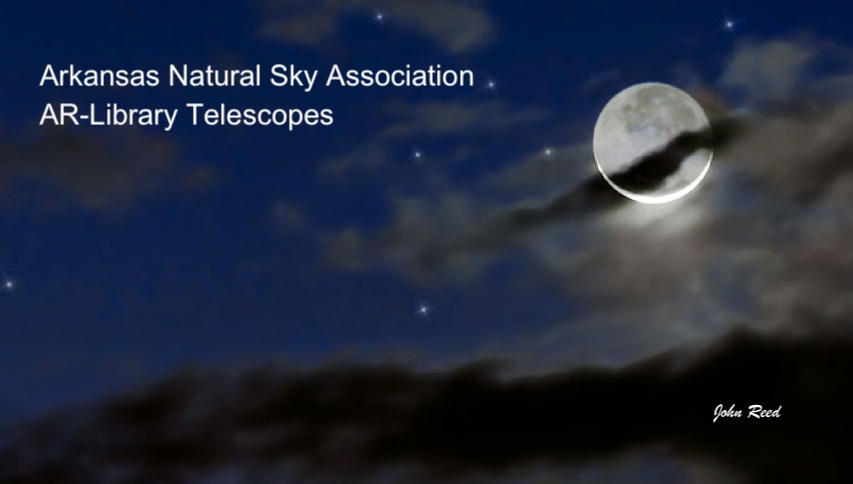 The usual library telescope is a modified 4.5" tabletop Dobsonian that will gather several hundred times more light than the naked eye.  It is suitable for observing the moon, brighter planets, such as Saturn and Jupiter, 
bright
comets
,
and many "deep-sky" objects, such as
star clusters
,
nebulae
,
and even a few 
galaxies
.
Several Arkansas Amateur Astronomy Groups brought the Library Telescope concept to a limited number of libraries in central and North West Arkansas.
The
Arkansas Natural Sky Association (ANSA)
is working with the
Arkansas Space Grant Consortium
, along with various astronomy groups and individuals to expand the LTP concept to areas not currently served. With this website, ANSA hopes to increase awareness of LTP programs, as well as provide information and inspiration to users and potential users of library telescopes by providing beginner sky guides, a
user's guide webpage
, and volunteer recruitment to help libraries with maintenance and program suggestions.
If you are familiar with the use and maintenance of backyard telescopes or are willing to learn and have an interest in supporting a library in your area that is currently not served, please reach out to us via
email
.
 If you are a librarian interested in implementing a telescope lending program, or already have scopes and want to be included in our program, please
register your library
.
By the way, some libraries have simple-to-use sky meters that can be checked out to gauge light pollution at your location. Learn How you can help promote natural skies by participating in the Globe at Night citizen-science sky monitory project by monitoring your local skies, with or without a sky meter.
A list of libraries with scopes in AR can be found here.
If you have questions email [email protected]. If you need help using a scope visit the User's Guide Webpage.
Learn and Enjoy!